TRC Final Report
Page Number (Original) 407
Paragraph Numbers 69 to 73
Volume 3
Chapter 5
Subsection 10
■ 1976–1982
Overview
69 This period saw two waves of large-scale public resistance with high numbers of casualties: the 1976 revolt and the violence associated with the 1980 school boycotts. The 1976 revolt began in the Transvaal and spread to the western Cape in August 1976, with an accompanying shift to more violent and intensified repression by the state. After the Transvaal, the Western Cape had the second highest number of deaths and injuries associated with the 1976 revolt. Numerous detentions followed, many with accompanying allegations of torture and at least three deaths in detention in 1976 and 1977. A number of local activists were sentenced to prison in a series of terrorism trials in the late 1970s. Others, mainly student leaders, were placed under banning orders.
70 The 1980s school boycotts began in the western Cape and spread to other parts of the country. Conflicts with security forces escalated and continued for several months, resulting in at least forty-two deaths. Other political campaigns such as the meat and bus boycotts were also undertaken that year. Numerous community grassroots organisations emerged in the region. These laid the basis for the formation of the United Democratic Front in 1983.
71 Widespread protests emerged after new squatter camps faced demolitions and repression by the state and its security forces. Crossroads squatter camp sprang up from 1975, after the demolition of large squatter camps in the Bellville area. Crossroads faced frequent police raids as authorities tried repeatedly to remove the camp. During one raid in September 1978, Mr Sindile Ndlela [CT00908] was shot dead by police and several others were injured. Local and international campaigns to save Crossroads led to a reprieve in 1979.
Overview of violations
72 In this period, severe ill treatment is the dominant form of violation reported to the Commission, followed by killings. This differs from the pattern in the previous period.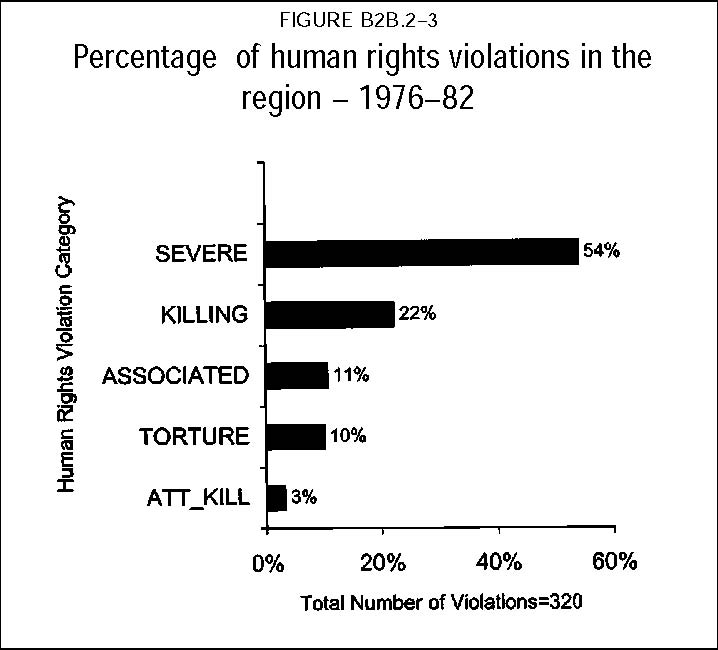 73 The increase in killings reflects the 1976 and 1980 periods of street conflict between protesters and the SAP. The police were again the main perpetrators in all of the categories above. Although largely centred in the Peninsula, there was a wider spread of violations in the Boland, the South Cape and the Northern Cape in this period.