TRC Final Report
Page Number (Original) 120
Paragraph Numbers 1 to 11
Volume 6
Section 2
Chapter 4
Subsection 1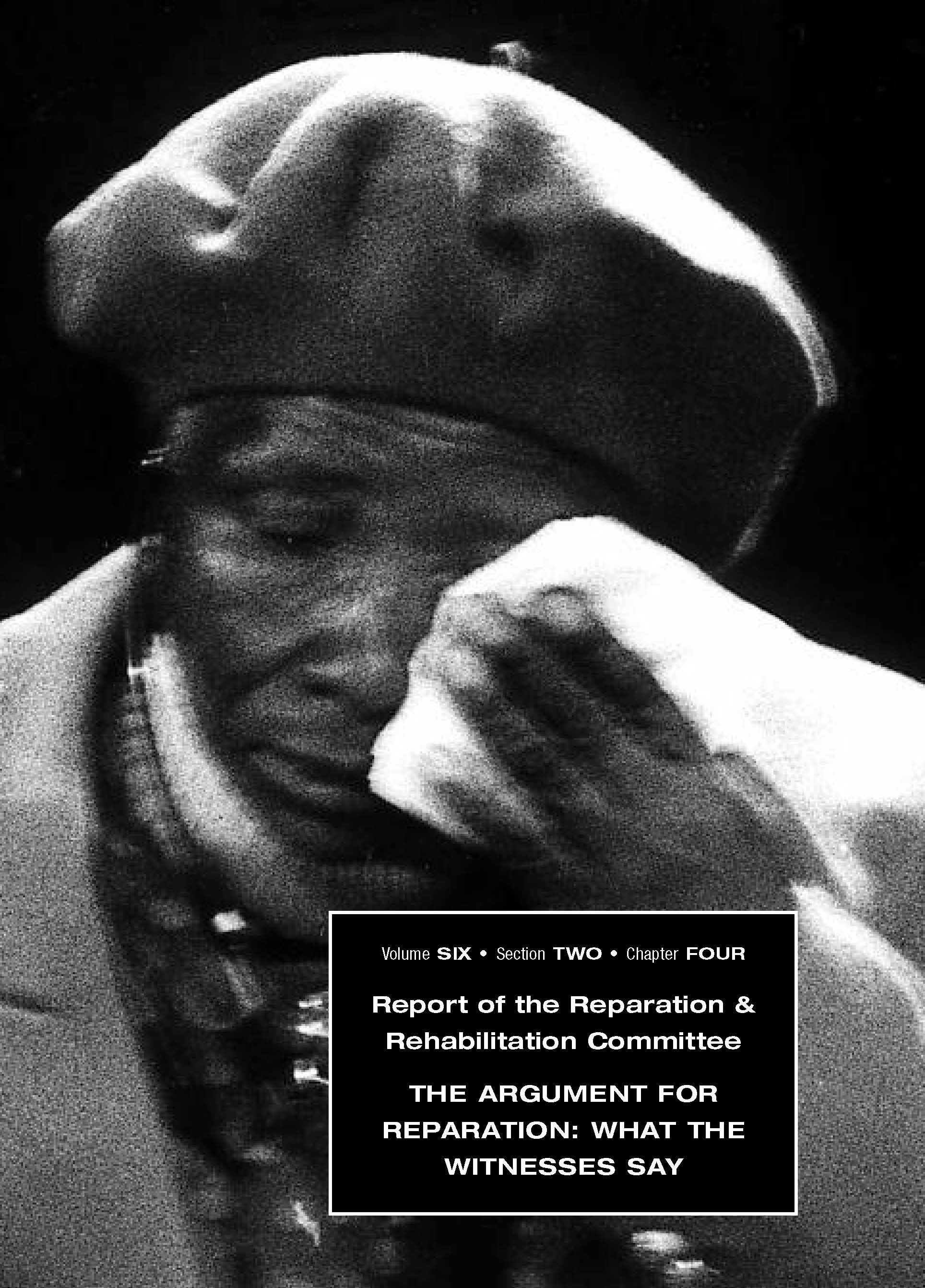 Volume SIX Section TWO Chapter FOUR
The Argument for Reparation: What the Witnesses say
1. Any broad process such as that undertaken by the Truth and Reconciliation Commission (the Commission) must necessarily summarise and generalise vast amounts of information to allow for presentation in a useful and accessible format. Yet, as we are all so acutely aware, behind each statistic lies a unique human story. It is the essence of this experience that the following section seeks to capture.
2. The stories below have not been chosen because they represent specific categories of the consequences of human rights violations and the issues they raise for reparation and rehabilitation. They are not and cannot be representative . They simply try to offer a context, a way to bring us back to what sometimes risks being obscured in the process of amassing and interpreting so vast a body of material. In so doing, they provide an opportunity to remember why we began this long and difficult journey into our past … a chance to hear once again the voices of some of those who spoke to us along the way.
THE STORY OF THE MZELEMU FAMILY
3. On 2 April 1994, members of the Inkatha Freedom Party (IFP) attacked the Mzelemu family home at Port Shepstone. On that day, Ndukuzempi William Mzelemu lost almost his entire family: his 84-year-old mother, Cekise, his first wife Doris and seven of his daughters, Gugu, Hlengiwe, Joyce, Khululekile, Lindiwe, Phelelisile and Phindile, aged between five months and 18 years. His second wife, Ntombifuthi Mildred Mzelemu, survived but was injured, shot and stabbed. The reason for the attack was simply his son's alleged involvement with the African National Congress (ANC).
4. On that fateful day, Mr Mzelemu heard a terrible knocking at his front door. He refused to open up but his attackers persisted, threatening to shoot if he refused to open up. Jumping out of the window, he ran to get help, with his attackers in hot pursuit.
5. Mr Mzelemu managed to evade the men and eventually got help from the chief's son. Together they went to the police station and arranged for members of the security forces to accompany them to his homestead. On the way, Mr Mzelemu saw his second wife, Ntombifuthi, crawling towards the main road , carrying their five-month-old baby girl on her back. When he saw that his wife had been stabbed and was covered with blood, he asked the soldiers to stop and help him take her to hospital. At the hospital, he was shocked to discover that the baby had also been stabbed. She was certified dead on arrival.
6. When Mr Mzelemu returned home, he found that eight members of his family had been hacked to death.
7. Mr Mzelemu was employed at the time of the attack. The area in which he lived was tense due to violent political conflict and people were afraid to help him arrange for the funeral of his family members. As a result, he had to make the burial arrangements himself and had little time to mourn or grieve.
8. After the funerals, Mr Mzelemu's life became unbearable. He received constant threats from the people who had killed his family and was forced to resign fro m his job because of repeated anonymous telephone calls at work.
9. He finally fled the area to escape those who threatened to hunt him down. As a result, he was separated from the remaining members of his family, whom he was forced to leave behind in Port Shepstone. Then his daughter Elizabeth dis-appeared during violence in the area and he lost contact with her as well. Although he reported her disappearance to the police, to this day he has not h eard from them. He has no idea where she is or whether she is still alive. This is a source of great concern to him.
10. Although he reported the killings to the police station, he was later told that the docket had gone missing. The police also tried to persuade him not to proceed with the case, telling him that he would get nothing out of pursuing the matter but his own death. He was told that people holding high positions in the 'previous system' were involved.
11. Mr Mzelemu settled in KwaMashu where he now lives with his married son. Both he and his wife are unemployed. In an interview with the Commission52, Mr Mzelemu said that he always carries a picture of his children in his mind and that he does not know how he survived the ordeal. He raised a number of concerns, including the fact that he cannot forget the brutal killing of his family members or his missing daughter and that his wife is finding it difficult to adjust to township life, which she finds very violent. He made the following requests:
a He would appreciate it if the Commission could help him to find a place of his own.

b He would like assistance in finding his daughter Elizabeth, who is still missing.

c The family is facing a terrible financial situation.

d His children's educational needs need to be addressed.

e The experiences have been very traumatic for the entire family and they would appreciate some form of counselling.
52 Interview conducted with deponent by the Commission, 2 0 0 0 .