TRC Final Report
Page Number (Original) 550
Paragraph Numbers 1 to 6
Volume 6
Section 4
Chapter 2
Subsection 1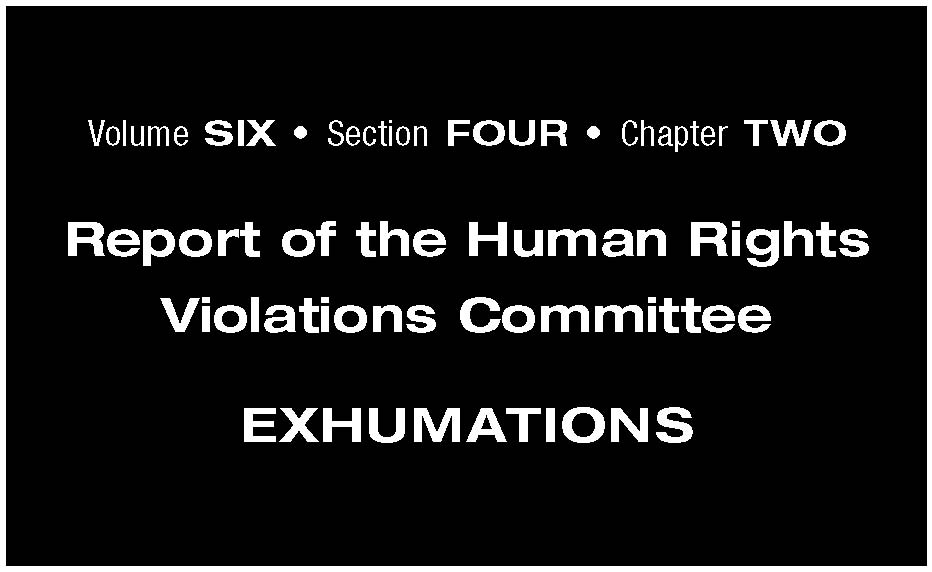 Volume SIX Section FOUR Chapter T W O
Exhumations
■ INTRODUCTION
1. The Truth and Reconciliation Commission (the Commission) undertook a number of exhumations with the aim of providing healing to the families of victims. When successful, exhumations allowed families to retrieve the last physical remains of their loved ones, so that they could bury them according to ceremonies of their own choice. In this way, many families could begin the process putting to rest the painful questions and memories that had haunted them for so long.
The cases of Barney Richard Molokoane, Victor Lunga Khayiyana and Vincent Seleke
2. One of these cases involved the exhumation of the remains of three MK operatives who had been shot dead near Piet Retief in the Transvaal on 28 November 1985.
3. Mr Barney Richard Molokoane, Mr Victor Lunga Khayiyana and Mr Vincent Sekete were killed while on a Special Operations sabotage mission, and were buried as paupers. Following an investigation carried out by the Commission's Johannesburg office, their graves were traced and the remains exhumed. Their families attended the exhumation and were able to rebury them. The Molokoane and the Khayiyana families had suffered other losses of family members during the political conflict, and these exhumations provided some relief.2 1
The case of Phila Portia Ndwandwe
4. The remains of Ms Phila Portia Ndwandwe, an MK operative known as Zandile, were exhumed from Elandskop Farm in KwaZulu-Natal on 12 March 1997.
5. Members of the Port Natal Security Branch had abducted Ms Ndwandwe from Swaziland in October 1988. After a failed attempt to recruit her, Ms Ndwande was shot dead and secretly buried. Her whereabouts remained a mystery. Indeed, many believed that she had defected to the security forces. This painful suspicion was dispelled when amnesty applications from her killers revealed the truth about her disappearance and led Commission investigators to her grave.
6. Forensic examination of her remains revealed that she had been shot in the head execution-style, probably while kneeling. Following press reports on the exhumation, Ms Ndwandwe's young son was united with his grandparents for the first time.2 2
21 See Volume Tw o, Chapter Six, p. 5 4 9 .