TRC Final Report
Page Number (Original) 122
Paragraph Numbers 315 to 325
Volume 3
Chapter 2
Subsection 27
■ 1990–1994
Overview of violations
315 Violations in the Eastern Cape during the 1990s took place in the following contexts:
a violence following the release of Mr Nelson Mandela in February 1990;
b clashes between the newly unbanned ANC and PAC;
c a battle between the South African government and the ANC for control over the still independent homeland territories — including the conflicts in Ciskei (including the 1992 Bisho massacre) between ANC supporters and Ciskei authorities;
d violence following the assassination of ANC leader Chris Hani in April 1993;
e APLA's 'Operation Great Storm' of 1993.
316 The pattern of violations in the Eastern Cape as reported to the Commission changed from previous periods: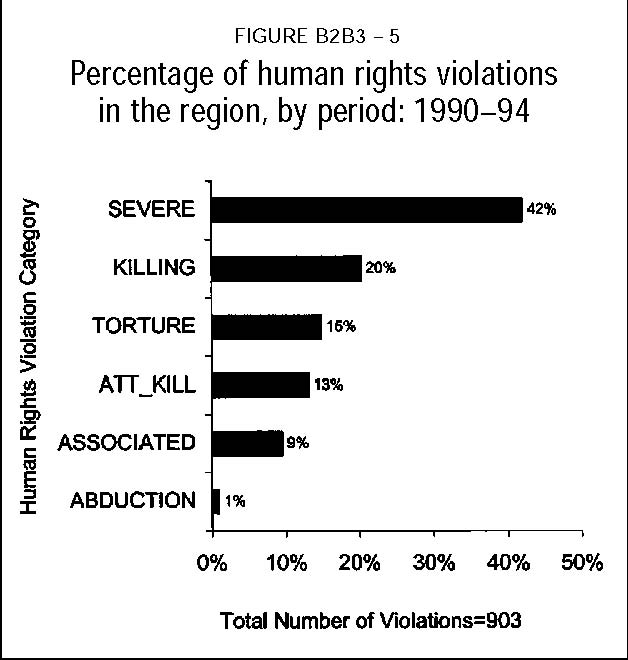 317 Severe ill treatment continued to be the largest category of violations (42 per cent), but killings increased to account for 20 per cent of the total Eastern Cape violations and torture dropped to 15 per cent.
Public order policing
318 In Barkly East, residents of Nkululeko township were celebrating Mandela's release on the night of 11 February 1990 when two SAP officers fired shots at the crowd. At least two youths — Mr Lungile Stina [EC0229/96ALN] and Mr Thamsanqa Maqethuka [EC0230/96ALN] — were killed in this incident and Mr Bongani Nakele [EC0231/96ALN] had a leg amputated as a result of being shot. Mr Bonisile Hlwele [EC1005/96ALN] was shot in the head by police during the toyi-toyi demonstration.
319 In Steynsburg, campaigns by the Steynsburg Youth Congress against the BLAs continued, leading to violence in which a youth was killed by a 'greenfly', or special constable. Police opened fire on the funeral crowd on 4 July 1990, killing Mr Lulama Futshane [EC1433/97NWC] and Mr Fuzile Fatyela [EC1438/97NWC]. During the same campaign against the BLA on 22 July 1990, Ms Nomphelo Ralane [EC1435/97NWC] was shot and injured by a councillor while taking part in a toyi-toyi demonstration outside the councillor's house.
320 In Cradock, Mr John Vuyisile Mboya [EC0143/96NWC] was shot dead by police on 20 October 1992 following his arrest on a march into town. His sister, Ms Xoliswa Ethel Mboya, testified to the 1997 Cradock hearings that he was shot inside the police offices, where there were no witnesses other than police. No one was prosecuted.
321 In Venterstad, students and other residents of Nozizwe township engaged in protest marches in mid-1993, which led to the burning of delivery vehicles and attacks on municipal vans and policemen's houses. A number of youths were shot by police, or arrested and assaulted by police. Ms Nobeki Mbalula [EC1239/96NWC] was shot and killed by police on 4 July 1993 in Venterstad. The Commission also received other submissions relating to shooting injuries.
Inter-organisational conflict
322 In Fort Beaufort, an ANC/PAC 'feud' apparently broke out in February 1993. Three men were killed and several were seriously injured in violence. The police reported that the three were killed in separate incidents. They included ANC member Zwelenkomo Alfred Swartbooi [EC0723/96ALB], who died in Adelaide hospital because of multiple head injuries caused by a sharp object. The Commission received a number of other statements relating to these clashes. Political intolerance between the PAC-aligned Pan Africanist Student Organisation (PASO) and the ANC-aligned COSAS appears to have been a motivating factor in the violence of this period.
323 Political intolerance between ANC and PAC members also became violent in Steynsburg in 1993. PAC organiser, Mr Michael Zalimpi Meje [EC1457/97NWC] told the Commission that, during March and July 1993, the ANC "tried to intimidate people to change membership from PAC to ANC". His home was attacked and burnt by ANC supporters, despite at one stage being guarded by police.
324 In Uitenhage, the bloody conflict between the AmaAfrika and supporters of the UDF, which began in 1986/7 and flared up again in late 1989, continued into the 1990s. Mr Gladstone Kathazile Sibeku [EC0689/96UIT] was killed in the conflict between 1 and 6 February 1990 and Mr Mxoleli Pityana [EC1077/96UIT] was hacked to death by AmaAfrika on 13 February 1990. Mr Lawrence Mcebisi Willen [EC1068/96UIT] was shot dead at a rally in Uitenhage on 23 February 1990. It is not clear whether he was shot by SAP or by AmaAfrika. The homes and businesses of Mr Kaliman Jackson Befile [EC2367/97UIT] and Mr Pumezile Befile [EC2398/97UIT] were burnt down by UDF/ANC-supporting 'comrades' in February 1990. Mr Temba Tembani [EC2392/97UIT] was shot and stabbed to death by AmaAfrika supporters in Uitenhage in 1990. AmaAfrika member Thembekile Plaatjies [EC1141/96UIT] was found dead on 4 September 1993 in Uitenhage.
325 In Transkei, violence followed attempts by the unbanned organisations to organise, often as a result of local intolerance of opposition. ANC supporters clashed with supporters of tribal authorities. In Pondoland, many people of Xopozo village in Flagstaff were killed and many left homeless or physically injured in conflict between the ANC and a group led by Chief Samuel Mdutshane. The Commission received several statements from ANC supporters concerning this conflict; at least eight named Chief Mdutshane's group as the perpetrators. Mr Dlayikeza Tonga [EC1730/97ETK], Mr Vulindlela Mbaligontsi [EC1731/97ETK] and Mr Masundula Kala [EC1732/97ETK] all died in the clashes; Ms Nokwendisa Priscilla Njeje [EC1537/97ETK], Mr Nkebe Soswiti Mdutshane [EC1727/97ETK] and Mr Sicanulo Ntshomela [EC1538/97ETK] were all injured; Mr Mandlakayise Lumbo [EC1729/97ETK] narrowly escaped injury; Mr Welcome Mtutuzeli Jara [EC1728/97ETK] and Mr Amos Mazizi Kango [EC1733/97ETK] had their homes burnt down.
THE COMMISSION FINDS THAT VIOLENT CONFLICT ERUPTED IN SEVERAL PARTS OF THE EASTERN CAPE DURING THE 1990S — BETWEEN THE ANC AND PAC IN FORT BEAUFORT AND STEYNSBURG AND BETWEEN THE ANC AND AMAAFRIKA IN UITENHAGE. THIS CONFLICT RESULTED IN KILLINGS AND INJURIES ON BOTH SIDES AND WAS FUELLED BY POLITICAL INTOLERANCE. THE COMMISSION FINDS THAT KILLINGS, ATTEMPTED KILLINGS AND INCIDENTS OF SEVERE ILL TREATMENT RELATED TO THIS CONFLICT WERE GROSS VIOLATIONS OF HUMAN RIGHTS, FOR WHICH THE ORGANISATIONS INVOLVED IN THE CONFLICT ARE HELD ACCOUNTABLE.