TRC Final Report
Page Number (Original) 58
Paragraph Numbers 97 to 109
Volume 3
Chapter 2
Subsection 9
■ 1976–1982
Overview of violations
97 After the relatively quiet later 1960s and early 1970s, two major influences ushered in a period of heightened political activity. These were the national education protests and the rise of the BCM followed by other mass-based organisations. The Commission received many reports of shootings by security forces during the education protests that spread to the Eastern Cape after 1976. Many of the detentions reported were related to these protests.
98 The BCM gained momentum in the mid-1970s and developed a strong following in the Eastern Cape. A large number of those detained were from its ranks. After its collapse in the face of police repression, other mass-based organisations started to emerge in the Eastern Cape, such as the Port Elizabeth Black Civic Organisation (PEBCO) and the Congress of South African Students (COSAS). It was also at about this time that the ANC began to infiltrate units of trained guerrillas back into the Eastern Cape. Political trials began again, along with reports of abductions and killings. The Commission received numerous allegations of torture in detention and, indeed, the deaths in detention that occurred in this period need to be viewed in the context of such reports of torture. There were also attacks on police officers and people perceived to be collaborating with the state.
99 The pattern of violations in the Eastern Cape reported to the Commission for this period differs from that of 1960–75.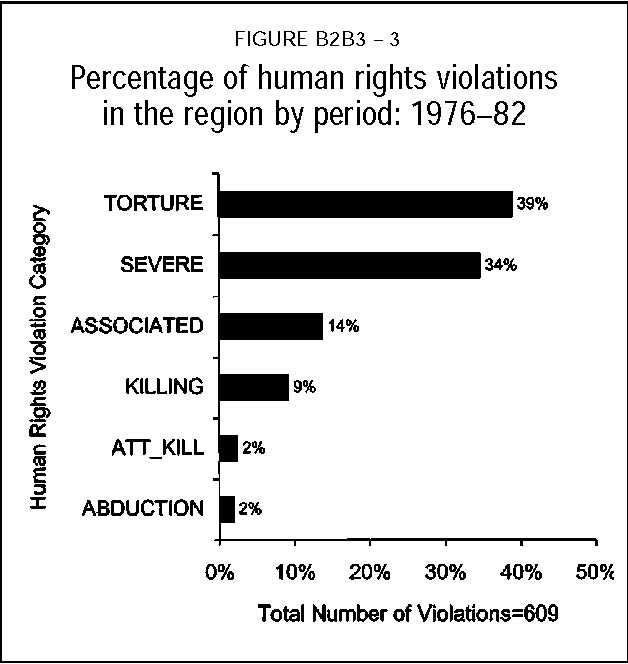 100 Whereas severe ill treatment, followed by torture, previously accounted for the bulk of the violations, during this period torture accounts for 39 per cent of the violations, followed by severe ill treatment. This indicates a shift in the site of violations, with a greater proportion of reported violations now taking place in custody; alternatively, it indicates an increasing severity of violations taking place in custody.
State and allied groupings
Public order policing: The mass protests of the education crisis
101 The national education protests of June 1976 soon spread to the Eastern Cape, starting with violence in Port Elizabeth and Uitenhage in August. Many areas in the Eastern Cape were affected at various times by the boycotts and clashes between police and youths.
102 The Port Elizabeth–Uitenhage area was a frequent site of protests and the clashes that resulted. During 1976–78, a special police 'anti-riot unit' – the Unrest Investigation Unit – operated in that area. Although not a part of the security police, it fell under the command of the Port Elizabeth security police chief and was assisted by the regular police Riot Unit. The Unrest Investigation Unit claimed to have been responsible for 2 000 arrests in two years16. Riot police were allegedly instructed to identify and shoot at ringleaders of mob actions and to arrest those unable to move when the crowd dispersed. On the following day, police would go to the hospitals and arrest all those with bullet or shotgun wounds. A day or two later, all police officers who had fired upon anyone would have to identify those they had shot from the arrested suspects.
103 By 18 August 1976, ten people had been killed and over twenty injured by police in clashes in Port Elizabeth and Uitenhage. Youths targeted schools, police vehicles and municipal bottle stores for stoning and arson attacks. In Port Elizabeth, during August and September, eighty-nine buses were stoned, and there were arson attacks on twenty black schools, five bottle stores and twelve shops. There was extensive damage – estimated by police at R1.4 million – to thirty-four police vehicles and various government buildings.
104 Mr Thembile Yawa [EC1462/97PLZ] was shot dead by police outside the Mbilini Street police station in KwaZakhele, Port Elizabeth in one of the early clashes on 18 August 1976. His aunt, Ms Babana Rebecca Nontshapho Yawa, said police told her that he had been shot "as he was the ringleader of violence".
105 A day later, eleven-year-old Zoliswa Florence Tiyo [EC0668/96PLZ] was shot dead by security forces in White Location, Port Elizabeth while on her way home from school. Zoliswa's mother, Ms Theodora Nosisi Tiyo, said security force members told her to go to the mortuary to identify her daughter's body. She told the Commission:
I indeed went there and I found her dead. There were a lot of other children; they were packed as a load of sheep. There were so many bodies there, I couldn't find my child, but I was taken to another room which was separate from this one. I could see one of the children and my daughter was next to that.
106 On the first anniversary of the education crisis, violence escalated again in the Port Elizabeth–Uitenhage area as the events of 1976 were commemorated. Following a mass protest march in Uitenhage on 16 June 1977, six shops and schools were burnt down. A number of people were shot the following day, allegedly as they were about to set fire to a municipal beer hall. One of those shot dead on 17 June was a twenty-three-year-old labourer, Mr Michael Mzwandile Booi [EC1085/96UIT]. His mother, Ms Nontobeko Mavis Booi, said she had not known why he did not return home that night:
On Sunday, I read a [news]paper that six people died in the shooting by police. On Monday, I found my son's body at the mortuary.
107 Protests followed the September 1977 death in detention of Black Consciousness leader Steve Biko. In Queenstown, police stopped a march, using batons and teargas. In the ensuing four days of unrest, two people were killed, a police officer's home and other public buildings burnt and over eighty people arrested.
108 It was during this march on 30 September that Mr Lenare Moerane [EC0652/96QTN] was shot in the head. He died a few days later. Mr Billy Dagada, who told the Commission that he had been with Moerane when he was shot, said they had been shot by police in vans and by people (also believed to have been police) inside a house:
Some of the shots were coming from a house … That is where comrade Lenare died. I was also shot. We were all taken into a police van. I was unconscious and we were taken to a mortuary here in town, only to find that I was still alive, then I was taken to hospital. We were interrogated by policemen … some of us were under police guard for twenty-four hours. At about ten I was taken to the police station and I was tortured.
109 On 7 October, the Ezibeleni township in the Transkei, just across border from Queenstown, was sealed off by Transkei police. In November, Mr Mnyamana Patrick Mayana [EC0420/96QTN] was shot dead by police in Queenstown while waiting outside a friend's house.
16 Focus 19, November 1978. Published by International Defence and Aid Fund (IDAF).