TRC Final Report
Page Number (Original) 595
Paragraph Numbers 233 to 235
Volume 3
Chapter 6
Subsection 34
■ 1983–1989
Overview of violations
233 This period was notable for the highest levels of gross human rights violations experienced in the former Transvaal. Reported levels of severe ill treatment (approximately 1 700 violations), torture (about 1 200 violations) and killing (850 violations) reached unprecedented heights.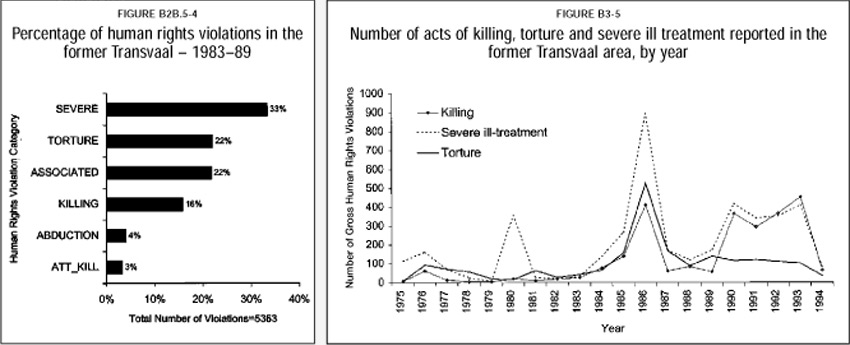 234 In 1986, all major violations reached a peak, coinciding with the declaration of a national state of emergency, street battles between police and township residents, massacres in Mamelodi and Soweto and mass detentions across the region. Numbers fell dramatically in 1987, when the former state used legislative means provided by the national state of emergency to regain control of the political conflict.
235 The beginning of this period of conflict was marked by what came to be known as the Vaal uprising on 3 September 1984, when clashes between township residents and police led to the death of fourteen people and the injury of at least eight policemen. In response, the government launched a joint army and police operation, 'Operation Palmiet'. Over the next four months, approximately 142 people died in street battles. This escalating conflict is reflected in Figure B3-5, which shows a rapid increase in violations from 1984.