TRC Final Report
Page Number (Original) 595
Paragraph Numbers 236 to 239
Volume 3
Chapter 6
Subsection 35
236 The dominant contexts in which gross human rights violations took place throughout the region during this period were:
a public order policing
b detention and torture
c covert actions by the security forces
d attacks on representatives of government authority and informers
e bombing and landmine campaigns by MK
f retaliatory violence used by the security forces and opposition groups, perpetuating the cycle of conflict.
237 Vicious street battles were an endemic feature of the period between 1984 and 1986, resulting in a large number of deaths. The Mamelodi massacre in November 1985 (thirteen dead), the 'Six Day War' in Alexandra in February 1986 (nineteen dead), the 'White City War' in Soweto in August 1986 (twenty-four dead) and the Winterveld massacre (eleven dead) were some of the salient events in this conflict. However, these incidents of mass killing constituted only a small proportion of the deaths that occurred in the ongoing conflict between police and township residents. Many died or were injured in small daily confrontations with the police and army.
238 Most victims were young. The overwhelming proportion of victims of severe ill treatment were males between the ages of thirteen and twenty-four, placing the youth at the centre of street-level political conflict.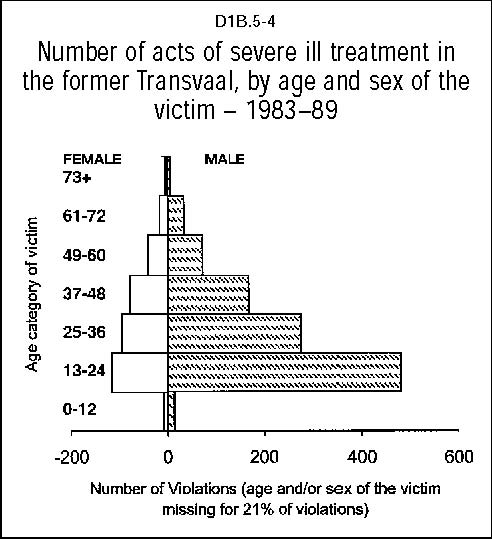 239 A large part of the explanation for the high number of deaths and injuries is that the police and army saw control of political protest as part of a counter-insurgency war against 'terrorists' who posed a fundamental threat to the political order. This was used to justify their use of lethal force and the deliberate targeting of particular individuals during protests. Riot units were given specific orders to eliminate ringleaders. An attitude of contempt on the part of the security forces, evident in the submissions of many victims, stripped black people of their identity as human beings and made their lives expendable.