TRC Final Report
Paragraph Numbers 240 to 243
Volume 3
Chapter 6
Subsection 36
240 Even higher levels of torture were reported for this period. Figure B3-5 (on previous page) reveals that there were substantially more acts of torture than killings during 1986–87. Although the government had already passed legislation providing for detention without trial, these powers were substantially extended under the partial state of emergency, declared in June 1985, and the nation-wide emergency imposed in 1986. An estimated 70 000 detentions took place between 1980 and 1990. Approximately seventy people died in detention.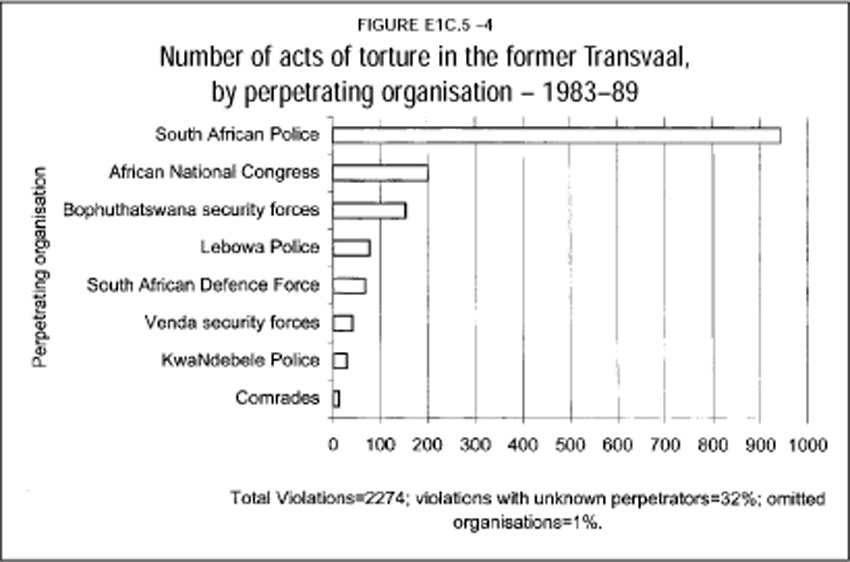 241 Torture occurred primarily in places of custody. The SAP was identified as the predominant perpetrator of torture and was responsible for approximately five times more incidents of torture than the ANC, which had the next highest number. The majority of victims of torture during this period were young males between the ages of thirteen and twenty-four.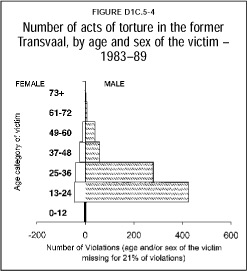 242 The power to detain was extended to all police, railway police, prison officials and defence force members. This substantially increased the capacity of the government to detain large numbers of people. In many communities, an initial 'short-term' two-week period of detention was used for the systematic detention of young males, the most overtly politically militant sector of society. Activists were also targeted for longer-term preventive detention and for shorter detention for the purpose of interrogation.
243 The majority of those detained were beaten and/or tortured. A study undertaken by the University of Cape Town in the 1980s established that 85 per cent of a sample of 175 detainees had suffered torture. This assessment is supported by the testimonies of Commission deponents, the majority of whom were tortured during their detention. Mechanisms which might have helped safeguard detainees, such as the right to visits from lawyers or family, were denied.