TRC Final Report
Page Number (Original) 151
Paragraph Numbers 5 to 8
Volume 3
Chapter 2
Subsection 37
Victim organisations
5 The number of killings reported in terms of the organisational affiliation of the victim (where this is known) were as follows: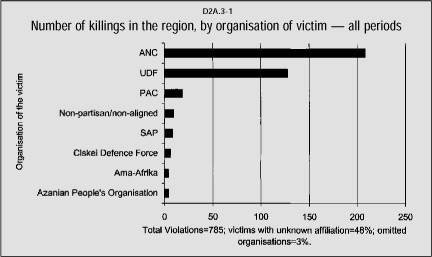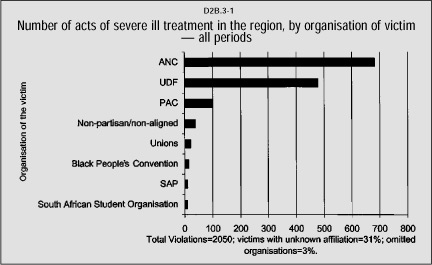 6 Most of those killed in this region were members of the African National Congress (ANC), the United Democratic Front (UDF), and the Pan Africanist Congress (PAC). There were some security force deaths, but the vast bulk of the victims were members of the ANC and UDF.
7 The pattern for cases of severe ill treatment was almost identical to that for killings, with ANC, UDF and PAC members suffering the bulk of the violations.
8 The pattern of torture is similar. All torture victims were members of black political organisations.